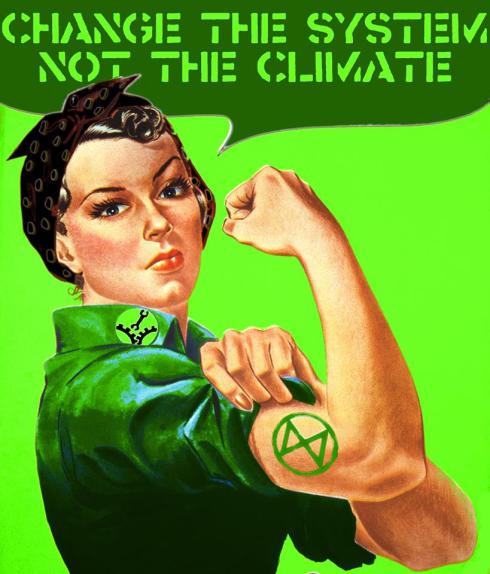 Welcome to the 13th Extinction Rebellion newsletter!
Extinction Rebellion is back on the streets. Months of preparations are now bearing fruit, with actions in Britain's major cities and all over the world.
But April's International Rebellion takes us into the countryside too. On April 15th, our March For Life will see rebels walking across the fields and the hills to take a stand against climate inaction, while before that we'll be re-connecting with nature and each other at the Spring Uprising festival on March the 16th. But we're also mobilising in cyberspace: this new Facebook group gives us a collective voice – one that can't be ignored – to demand that the BBC gives the ecological crisis every moment of attention it deserves. And the design for a new window-poster (best printed on coloured paper) means our rebellion will be brewing not just on the streets, but above them!
There's a lot more to come, and not just from us: on Friday the 15th, the globe-spanning Youth Strike made a phenomenal start in the UK, with 10,000 children across 60 towns showing adults how it's done. With growing momentum for an American Green New Deal, and major NGOs shifting to support civil disobedience, it's clear that we're part of a rapidly rising tide of protest.
It's time for a turning-point. The next few months could be a crucial moment in human and ecological history. To join the momentum, please see our volunteers page for available roles or get in touch with your nearest XR group. If you can't spare time, but can donate money instead, please see our fundraiser page.
Check out what's on near you with our full list of upcoming events, available to view on our website rebellion.earth/events. Or create your own event by filling in our talks and trainings form. If you're new, or haven't already seen it, remember to check out our Campaign Overview Document.
If you'd like to look back through the newsletter archive, you can find it here.
Contents
Recent Activity

Upcoming Activity

International Highlights

Announcements

Extreme Weather

Latest News and Data

Recommended Content

Regenerative Culture / Good News Stories
Recent Activity
First National Youth Strike for Climate – February 15th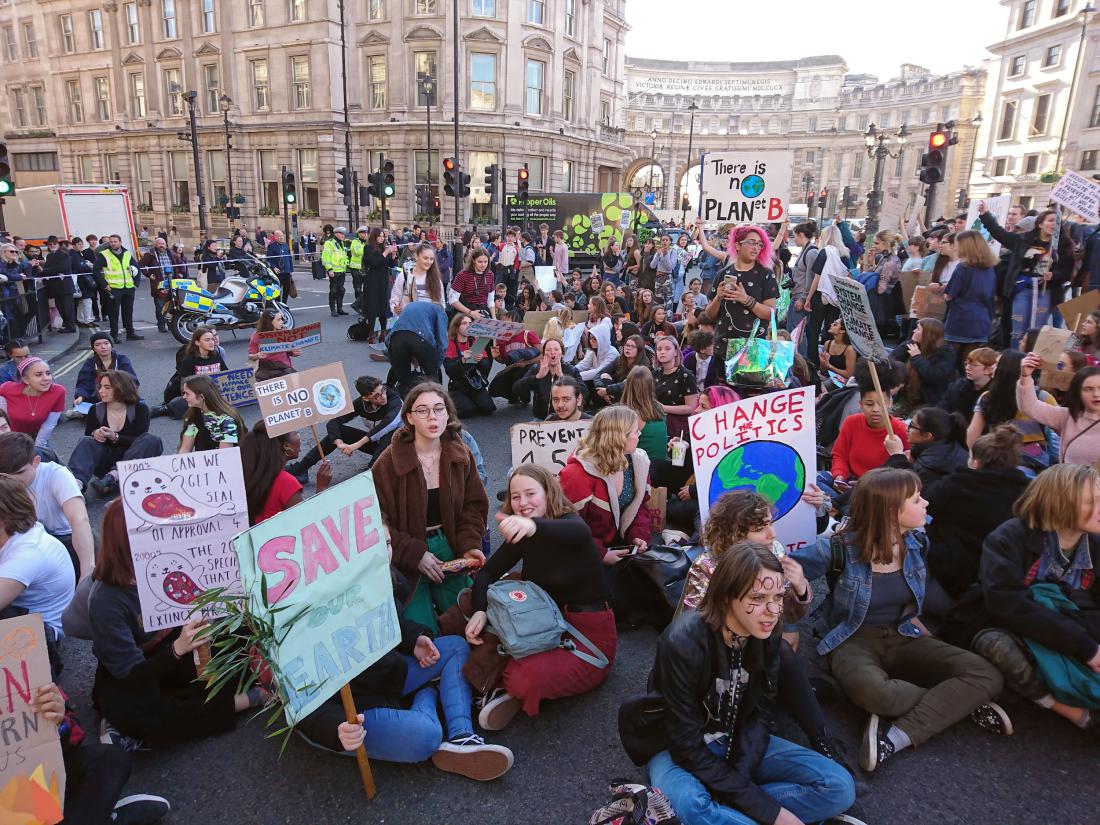 On Friday 15th over 15,000 children left school to take part in the UK's first Youth Strike for Climate. In more than 60 towns and cities, children gathered with teachers and parents to demand that the government take action on the ecological emergency.
In London, the turnout far exceeded organisers' expectations with thousands of children gathering to block traffic in Parliament Square, on Westminster Bridge and outside Downing Street. The deployment of police horses did nothing to dampen the jubilant spirits. And nor could the helicopters drown out the children's calls for justice.
Bing Jones, a member of XR, was in Sheffield: "300 to 400 kids turned up. We provided a PA system and a focus and I spent 2 and a half hours doing nothing but guiding kids to come forward and speak: say your name and school and off they went. They spent an average of about a minute each. They were articulate and informed and electric. It was one of the best days of my life. We had more than 100 speakers, cheered every time. Only a handful of adults spoke. Electric."
Given the day's success, it's likely that the next strike on the 15th of March – planned as both national and global – will be many times bigger. In the meantime, XR and Youth Strike will be co-hosting an event outside London's Department of Education (see below for more.)
See here for a debate on the strikes with XR spokesperson Clare Farrell; see here for Youth Strike organiser Anna Taylor on BBC Newsnight
Day of Regional Rebellion – February 16th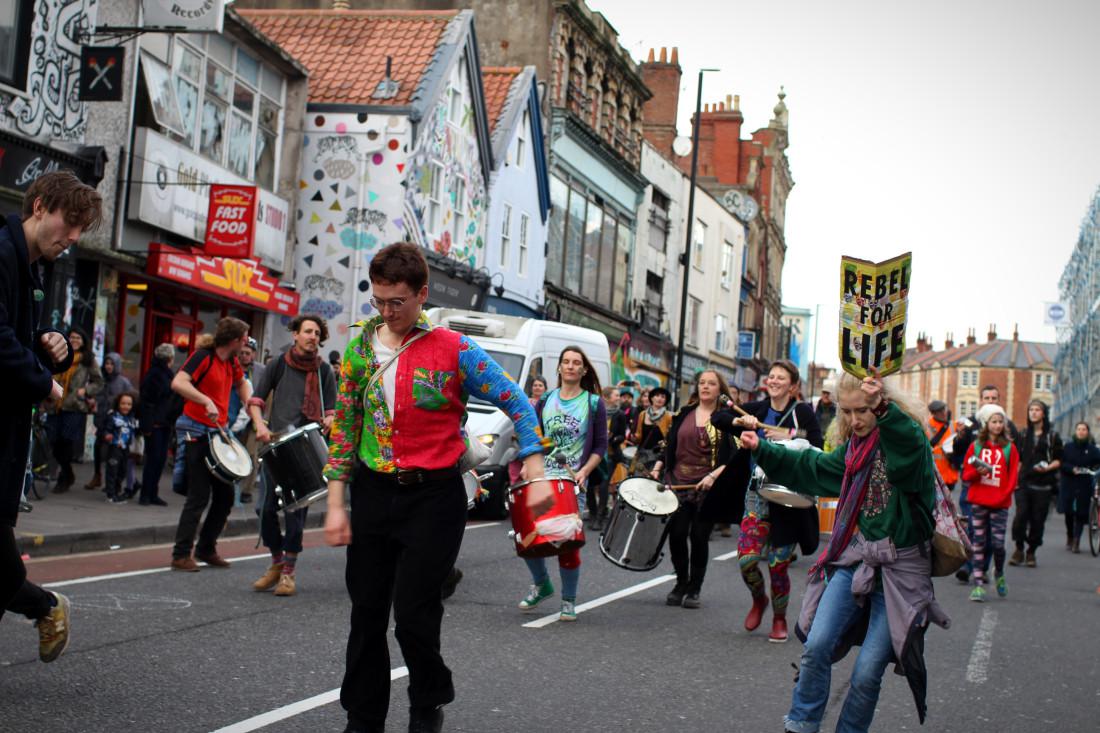 On Saturday, hundreds of rebels across the UK united to let those in power know that our numbers are growing, as is our willingness to act. In Bristol, hundreds united in shutting down the city centre with a street party, using dance and song to pressure the local council into greater action on the ecological emergency. In Cardiff, over a hundred rebels gathered to sing and speak to the public, gathering signatures to provide a big boost to their petition to the Welsh government. Over a hundred rebels in Cornwall blocked roads and marched in a funeral procession through the streets of Looe in honour of coastal communities. There was an eleven-minute silence, as well as speeches, poems and songs. Even more actions took place in Nottingham, Brighton and Gloucester.
Swarming Fashion Week – February 17th
The fashion industry is unquestionably one of the world's most powerful and polluting industries. So on Sunday 17th February rebels disrupted the opening of London Fashion Week's by swarming the streets outside key venues and calling on fashion to wake up to the climate and ecological crisis, and to use its influence to help create a just and sustainable world.
In mourning for the daily extinction of hundreds of species and the human lives lost as a result of the natural world's collapse, rebels dressed as though for a glamorous funeral. We were joined by some of the catwalk models who posed in front of our banners, and the disruption was filmed by international TV channels and featured in the national press – including the fashion industry's flagship magazine, Vogue.
Local Actions
Hackney Street Party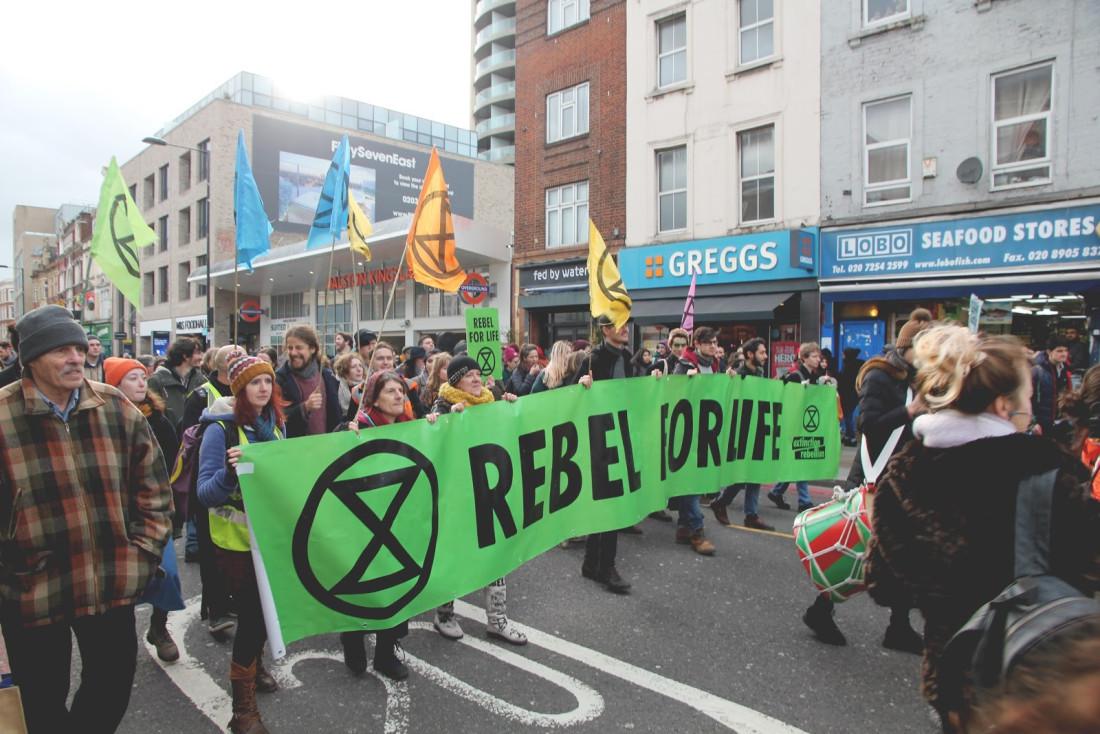 On Saturday 9th February, XR London rebels held a peaceful street party and blocked the road outside Dalston Kingsland station in Hackney. This was the first of a number of creative roadblocks planned in the build up to International Rebellion Week starting 15th April. Activists enjoyed a sunny day filled with great speakers, friendly discussion, delicious vegan food – provided by the Turkish Gözleme stall in Ridley Road Market – and a jam-packed schedule of music and spoken word poetry. The event was MC'd by Marv Radio and saw spoken word from Dizreali and Earthman Bob, live music from All Things Mata and Zantagola and Samba provided throughout by the Baque de Axé Drummers. Hackney local DJ Dgo opened and closed the event with Reggae, Roots, and Dub.
Amongst all the music was an array of amazing speakers promoting local causes. Sam Smithson from Sustainable Hackney brought their campaign for Hackney city council to declare a climate emergency to the crowd's attention. Only 200 signatures are needed for this to be discussed in an official forum so please sign here. Other speakers included Janie Mac from the Refugee Community Kitchen, Bettina Maidment for Plastic Free Hackney and Katie Hodgetts from the UK Youth Climate Coalition. Pastor Dave from Victory Outreach also spoke for his campaign, 'Stop the Violence London' to bring people out of a life involving gun and knife crime, and promote Non-Violence.
The aim of the day was to create an open and positive atmosphere of light hearted, non-violent action, with discussion centred around environmental issues. The community-building action saw activists interacting with passersby throughout the day, discussing the movement and the growing threat from climate change locally and across the globe.
Thank you to everyone who came along and helped make this day a success.
See video coverage here
Norwich
Monday 11th February XR Norwich shut down the Norfolk County Council budget meeting for 4 hours. The local XR group had previously asked both Norwich City and Norfolk County councils to declare a #ClimateEmergency. They also demanded the council drop its plans to spend £200m on building a carbon-guzzling road through a special area of conservation (SAC) with SSSIs and wildlife sites. The group had been juxtaposing and linking the two issues – you can't declare a Climate Emergency and continue high-carbon, economic growth system, vanity projects.
Twenty-five Rebels entered the Council Chamber and stayed there until the police intervened: four were arrested for refusing to leave the chamber. The action was covered by both regional BBCand ITV, with Rupert Read appearing for a face to face interview on the late evening BBC news.
This powerful action testifies to the continuing evolution of the movement around the country at a grassroots, local level.
Glue-ons in Stroud
Stroud Rebels followed Norwich's lead on the 13th February, disrupting a Gloucestershire County Council budget meeting with singing and chanting in the public gallery: two Rebels glued themselves to their seats, demanding "the council's budget acknowledges climate change."
While the Rebels continued to call out the Council's criminal negligence for failing to take any action in the face of impending climate and ecological collapse, the meeting was adjourned and the police called in.
The more we in XR are willing to take such actions holding local leaders to account, the more powerfully our message will hit home, forcing those in power to re-assess their priorities and put the climate where it belongs: at the top of the agenda.
Article here
Oxford Roadblock
Rebels in Oxford blocked a road earlier this month – then eloquently explained why with this article in the Oxford Times
Local contributions
Decentralisation is a central part of XR's ethos, and this applies geographically too. So while high-profile actions will often take place in the big cities, we're eager to celebrate all the amazing actions across the country and the world every week. If you're involved in your local XR scene, whatever the country, and if you've got a story to share, please email xr-newsletter@protonmail.com with 'Story Contribution' in the headline.
Upcoming Activity
Climate Truth for Schools – DfE, February 22nd
The National Curriculum is failing to inform young people about Climate Change, yet it is today's schoolchildren who will be left holding the can. For this reason XR will be following up on the Youth Strike of 15 February by protesting at the Department for Education on Friday 22nd February. Please print and sign a copy of the letter with our demands, and if you have young children, stamp it with their hand prints and post it to Department for Education, 20 Great Smith St, Westminster, London, SW1P 3BT. Please share as widely as possible and tell your friends to share too. And join us on Friday 22nd (12pm at Old Palace Yard by Westminster Abbey and then on to the Dept for Education). Thank you. For more details and updates see our FB page:
The Blood of our Children:
an Act of Civil Disobedience, March 9th
Join our bloody but non-violent civil disobedience at a central London government location. The science is done. We are in a climate and ecological emergency. We're on course to send our children to an early death likely to involve mental breakdown, starvation and war. There are no words to describe the horrors we risk if we do not make governments act immediately. Every parent, every adult, everyone has a responsibility and duty to take action. Even if that means breaking the law.
So whatever your age, beliefs, or background, Extinction Rebellion is calling for you to come and pour (artificial) blood on the ground outside a key government location. We'll make the gravity of the crisis viscerally clear and show that we're prepared to make the sacrifice of our own freedom by being arrested. This is now what's required. We also wish to apologise to the next generation for our complicity in this the greatest of all crimes – to leave a legacy of hell. A future defined by the climate and ecological breakdown.
The event page is here. Say you are "going" or "interested" on this page and we will message you with a full briefing. Please share and spread the word. If you have any questions, email us at boocxr@gmail.com.
Spring Uprising – Festival – March 16th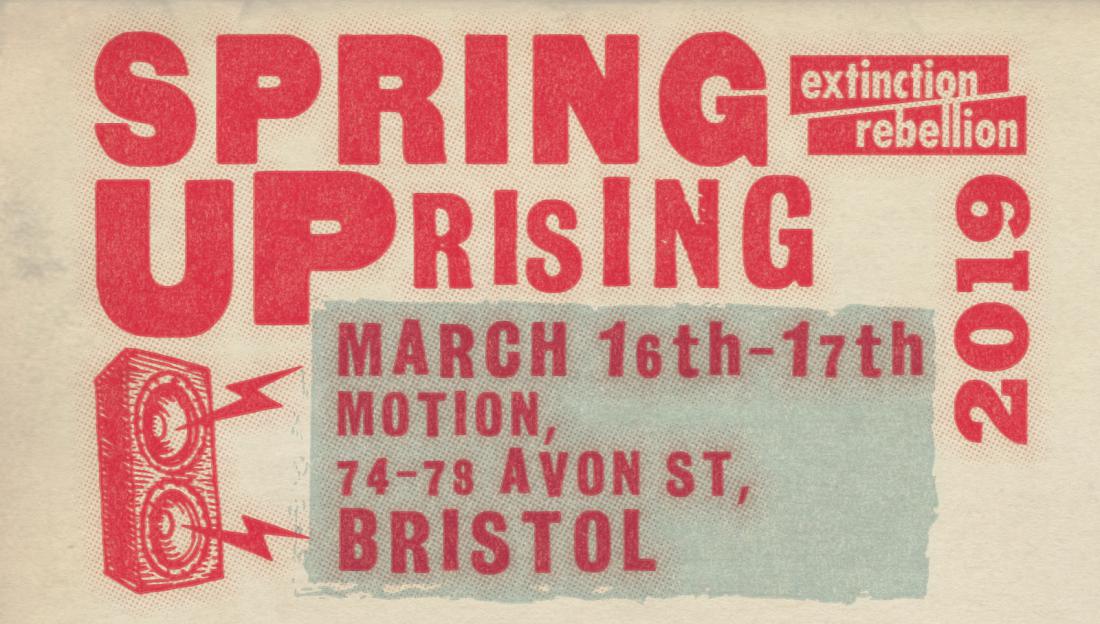 WINTER IS OVER, WAKE UP – THERE'S A REBELLION ON
LET'S GET TOGETHER, CELEBRATE XR, GET TRAINED, GET ORGANISED
AND HAVE A DAMN GOOD TIME DOING IT
So we are throwing a 3000-person Indoor XR festival!
Set to feature music, talks, political discussions, art workshops, trainings, and much much more – the Spring Uprising will be the perfect preparation for our coming Rebellion
See the website for details – and bookings!
Facebook event-page here
International Highlights
France
Not only was the weekend of 24th/25th January an important one for action in the US (see newsletter 12) but in France, in a day of action organised by various French environmental groups, more than 140,000 people took to the streets in no less than 120 cities. In Perpignan there were marches, assemblies, human chains, flashmobs, die-ins and non-violent actions.
In the Place de la République, Paris, 8500 people gathered for an 'agora' (public political meeting). Brest was the scene of a human chain, and Orleans of a die-in. In Lyon, 5000 people mobilized to denounce air pollution. In Dijon, 1200 people found themselves in front of the town hall hands painted in red to symbolize the climate emergency. Read more (in French) here.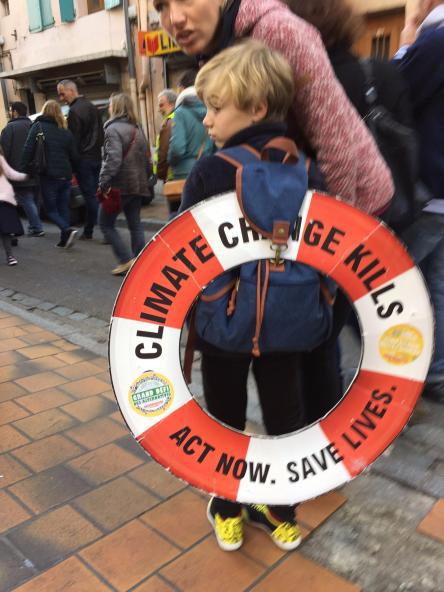 Canada
XR Canada are organising a Rebellion Week, to run from February 10 to 17, from Vancouver to New Brunswick. Organisers are urging rebels to join their local groups and organise their own actions (following, of course, the spirit of XR). There will be a die-in followed by road blockages in Halifax, Nova Scotia on Saturday 16th, and the Forest Protectors are on stand-by in Lockeporte for snap action against clear-cutting of the forest. Rebels can also join the women's rally for missing and murdered women which traditionally takes place across Canada on Valentine's Day, but are asked to carry out any actions at a different time to these rallies. For more details see
Australia
There will be a Melbourne Central Extinction Rebellion 'Die In' on 04 March, 2019 at 12:00 PM.This will be a peaceful demonstration at the Melbourne Central Shopping Centre. We will assemble at the State Library for a briefing on the action, before proceeding across the road to carry out the action. The action will involve people symbolically 'dying' in the shopping centre. RSVP: Share with your friends on Facebook:
Announcements
March for Life
Still thinking of travel plans for April 15? How about walking?
The Extinction Rebellion March For Life will see XR branches setting off from all across the UK, joining up with other groups on the way, and arriving in London with minds full of the nature we seek to protect. This could be a once-in-a-lifetime experience: a chance to spend time outside, to get to know your fellow rebels before shutting down London together, and to receive extra training en route. It'll also save money – and emissions – on coaches!
If you aren't up to walking all the way to London, there are still loads of ways you can help: offering accommodation/facilities, food and drink, publicity, or logistical support, at your location or in London.
Land Respite
The Land and Respite Working Group seeks more Open Homes hosts from around the country. We especially seek hosts along the routes of the planned marches to London beginning in March, and also clustered within a 30 mile radius of London, as more hosts will be required when more citizens join the marches towards London. Additionally we are building a 'city support belt' of land-based projects circling London which initially will serve the function of gathering, grounding and respite. These could include land squats as well as privately owned projects. Please get in touch if you know of such projects, especially to the north and west of the city. For Open Homes hosts and city support belt write to xr-landandrespite@protonmail.com
Talks and Trainings in your area
Looking to bring the Rebellion to your local area? Fill in this form, and we'll provide you with all the resources you need!
XR Blog
XR Blog seeks submissions on an ongoing basis, from rebels from all walks of life. Minimal writing experience is required. If you're stuck for content we can provide a variety of writing briefs. Please contact us on xrblog@protonmail.com
Arts – print your own window posters!
Beautify your window and get your neighbours to rebel in April with this new window-poster! For best results, print on coloured paper.
Legal – expenses
Dear Local and Affinity Groups,
Ahead of actions please make sure that Rebels who might get arrested have enough personal finances to cover travel to court in the event that they are charged. You may wish to ensure these financial resources by fundraising as a group so that the ones who are putting themselves on the line can feel safe that their court travel costs are covered and will be able to defend themselves in court. Also, please keep in mind that if your Rebels are arrested away from your local area they will need to travel to where they were arrested at least 2-3 times to attend hearings and court dates.

Central XR Finances don't pay for court travel costs. XR Legal Support has a small hardship fund for court travel costs. Please contact xr-legal@riseup.net.
Finance – correction
We need to correct an item in our last newsletter: XR at a UK national level does not make a commitment to pay for arrestee support because: a) local fundraising is a way to share our information and garner support, b) we are concerned that this cost could grow beyond what we can cope with, c) there are currently insufficient funds. We are investigating the possibility of a hardship fund. We can offer support to help groups get crowd fundraisers off the ground locally- they were written about here some time ago. In exceptional cases of financial hardship, XR Legal supports rebels to pay for their travel to court (xr-legal@riseup.net).
Extreme Weather
Bushfires in Tasmania
At least 173 hectares, or 2.5% of Tasmania's world heritage forests have burnt in a crisis which has overwhelmed Tasmania's firefighting capacity. Matthew Newtown travelled into the exclusion zone alongside the Tasmanian fire service. View his photographs here. (Tasmanian Richard Flanagan has written a moving piece about these fires "Tasmania is burning. The climate disaster future has arrived while those in power laugh at us".)
Thousands of homes flooded in Queensland
Yet another "one in one hundred years" event, as days of torrential rain has saturated Townsville and parts of north Queensland and over a thousand residents were evacuated. See the early reports from ABC here and the Guardian here. In the aftermath, hundreds of thousands of cows and other livestock have been found dead.
World's Driest Desert Floods as Extreme Weather Hits Chile
'Rains high up in the Andes mountains have led to torrents of water pouring into the Atacama desert below, sweeping away houses and roads. […] heavy rains devastated the country's El Loa province. Flooding caused six deaths and destroyed nearly 100 homes […] The disasters are part of a pattern of increasingly extreme weather in the country' – Bloomberg report
Latest News and Data
Plants and soil absorb less carbon dioxide under a warming climate
We all have an image of the Earth becoming more lush as carbon dioxide levels rise. However, worryingly, a study recently published in 'Nature' suggests the opposite. Researchers found that under a warming climate, rather than absorbing more greenhouse gas emissions, plants and soil may start absorbing less, accelerating the rate of change.
Cause of the 'Little Ice Age'
A study by UCL scientists just published in Quaternary Science Reviews presents the case that the 'Little Ice Age' of the 16th century was in part caused by the mass killing (mostly by disease) of native Americans, leading to substantial forest regrowth and absorption of CO2. CO2 in the atmosphere declined by about 7-10ppm over the century, lowering temperatures globally around 0.15C. The article is "Earth system impacts of the European arrival and Great Dying in the Americas after 1492" by Koch, et al. (forthcoming in March, 2019); a popular (and free) rendition of the content is available via CNN.
Another remarkable example of this effect was the forest regrowth after the Mongol invasions of Asia and Eastern Europe in the 13th and 14th centuries which 'stockpiled nearly 700 million tons of carbon absorbed from the atmosphere. This is equivalent to the world's total annual demand for gasoline today.'
Insect Apocalypse
In case anyone has missed it, a recent study in Biological Conservation suggests insect populations are collapsing around the world. The rate of extinction is eight times faster than that of mammals, birds and reptiles, and could lead to an insect-free world within 100 years, leading to a nearly complete ecosystem collapse. The Guardian's reportgives a good overview. (On a tangential, but important, point, a new study has found evidence that an organic diet will quickly and substantially reduce the amount of pesticides in your body.)
Pressure on fast-food chains
Agricultural emissions, including those from meat and dairy, are on track to contribute around 70% of the total allowable greenhouse gas emissions by 2050 that would the keep rise in the world's temperature under 2C this century.
In a letter to major fast-food chains, a coalition of investors are calling on the firms, which include McDonalds and KFC, to put in place clear requirements for suppliers of animal proteins to report and reduce their greenhouse gases and their freshwater impacts.
Will this lawsuit bring down ExxonMobil's culture of climate deception?
This article written by the Union of Concerned Scientists highlights how for many years ExxonMobil has lied about its support for climate change denier groups. Not only that, but the company has been deceiving its investors, falsely assuring them that its oil and gas reserves would not become unusable for economic reasons. The New York Attorney General has now filed an important fraud lawsuit against the company.
A third of Himalayan icecap doomed
Campaigners call for transport overhaul to tackle pollution
In this article in The Guardian the campaign group Friends of the Earth has called for an increase in public transport investment in the UK to combat emissions from cars.

Gigantic Cavity in Antarctica Glacier Is a Product of Rapid Melting, Study Finds
'The cavity is about two-thirds the area of Manhattan and nearly 1,000 feet tall, according to a study released Wednesday by NASA's Jet Propulsion Laboratory. The hulking chamber is large enough to have contained about 14 billion tons of ice — most of which the researchers say melted in three years.'
Thousands of birds at risk as wetland is threatened by overexploitation
'Doñana National Park, in Spain, is a crucial stopover point for thousands of migrating birds. However, over-intensive irrigation is threatening these valuable wetlands.'
Lemurs in Crisis: 105 Species Now Threatened with Extinction
'At least 95 percent of Madagascar's beloved primates are now at risk, conservationists warn.'
Campaigners accuse Redbridge Council of breaking promise to protect wildlife from lorry through road
'Redbridge Council has backtracked on its pledge to save birds, badgers and other protected species from a road that threatens to tear through a woodland strip of Fairlop Waters Country Park, campaigners say.'
Endangered sharks being served up in British fish and chip shops, study reveals
'Hammerhead sharks and dogfish were among the vulnerable varieties on offer in British outlets. Scientists found 90 per cent of products sold as huss, rock salmon and rock eel at chip shops were in fact the globally threatened spiny dogfish.'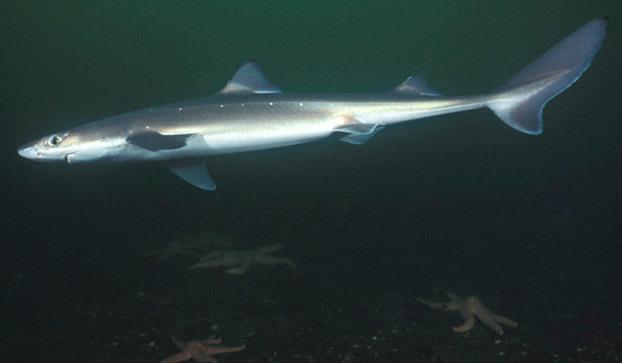 Dozens of hungry polar bears have found their way to a remote Russian island in search of food. The polar bears have been feeding off rubbish in a local dump and even walking in to houses, causing a state of emergency to be declared. Experts have been deployed to sedate and remove the bears. Shooting them is prohibited by law. Officials warn, however, that a cull may be necessary to ensure the safety of the local population, if attempts to remove the animals fail.
Recommended Content
We have heard a lot about food insecurity in the UK relating to brexit and supply chains from Europe but climate change is a much bigger threat to our food supply system. This blog post from Wicked Leeks details a report and campaign from Climate Coalition regarding how climate change is impacting agriculture in the UK.
-Matthew L.
Another nail in the coffin of the fracking industry's claim to be cleaner than coal: 'New NASA Study Solves Climate Mystery, Confirms Methane Spike Tied to Oil and Gas'. Interestingly, they find that global fires and their corresponding emissions have been at a historic low, burning 'roughly 12 percent less acreage during 2007 to 2014, compared to the prior roughly half-dozen years', apparently due to more effective fire suppression. Meanwhile, methane emissions from the oil & gas industry have increased substantially, accounting for 68% of the 25 teragrams added to the atmosphere every year since 2006. This increase 'correlates closely with the U.S. fracking boom […] Leaking and venting of unburned gas — which is mostly methane — makes natural gas even worse for the climate than coal.' – Ian
A good talk & booklet by Jane Morton, bringing insights from her profession of clinical psychology to how we talk about climate change. She argues that public messaging should move on from only using dry, conservative scientific findings and not be afraid of tapping into emotional responses which have a deep, fundamental role to play in decision-making. Basically, we shouldn't shy away from describing this as an emergency, articulating the fears many feel already by telling the full truth, and using this to spur collective political action. – Ian
Some signs of a gradual breakthrough in honest reporting: Why it's time to panic about climate change – an honest report from The Scotsman, and This is a crisis: Facing up to the age of environmental breakdown – a paper published by the Institute for Public Policy Research (IPPR) – Jon
Five maps that reveal the world's remaining wilderness – some excellent visuals here showing the global impacts of the dominant culture on wild ecosystems. By their reckoning 'just 23% of the planet's land surface (excluding Antarctica) and 13% of the ocean can now be classified as wilderness, representing nearly a 10% decline over the last 20 years.' Furthermore: 'Between 1993 and 2009, an area of terrestrial wilderness larger than India — a staggering 3.3 million square kilometres — was lost to human settlement, farming, mining and other pressures.' For me it shows the importance not only of conserving the remaining areas and stopping further destruction, but also the huge scale of work needed to repair the damage that has been done and the challenges of reintegrating human beings into that rewilding effort. – Ian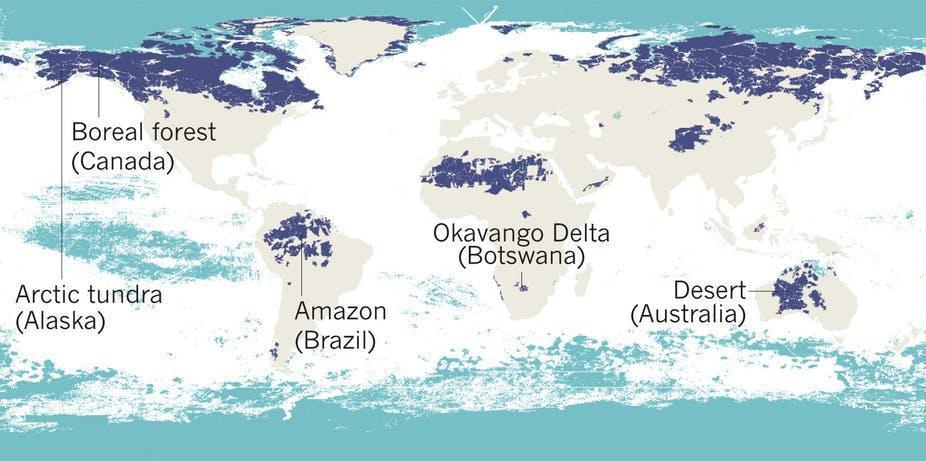 Regenerative Culture / Good News Stories
Baby tortoises spotted
After more than a century without a single baby tortoise sighting on the Galapagos island of Pinzón, a small group has been spotted. It is hoped that these youngsters may help to pull the critically endangered species back from the brink of extinction. More details here.
New Rewilding Project in Australia
Inspired by rewilding projects around the world, especially in the Yellowstone National Park, an ambitious project on the Yorke Peninsula in South Australia will attempt to restore a small pocket of Australia to its former ecological glory.
In total, about 27 of 29 mammal species are believed to have disappeared from the peninsula, including keystone species which help shape the ecosystem.
In Australia, the rewilding movement is steadily gaining momentum with groups like Rewilding Australia advocating for the reintroduction of Tasmanian devils to the mainland. Research suggests that introducing devils to the mainland could help knock cats and foxes off the top-predator pedestal in places where dingoes are culled or are in low numbers.
It is hoped that re-establishing ecosystem structures will be key to curbing Australia's alarming extinction rate.
Pope Francis offered $1m charity donation to go vegan for Lent
This article in The Guardian details how the vegan campaign 'Million Dollar Vegan' has offered to donate money to charity if Pope Francis goes vegan for lent, the 40 day period leading up to Easter in which many christians practice fasting or abstain from types of food such as meat or sweets. The pope is known for his stance on climate change through statements such as:
"Climate change is a global problem with grave implications: environmental, social, economic [and] political," he said in his 2015 encyclical. He also told the UN in the same year: "The ecological crisis, and the large-scale destruction of biodiversity, can threaten the very existence of the human species."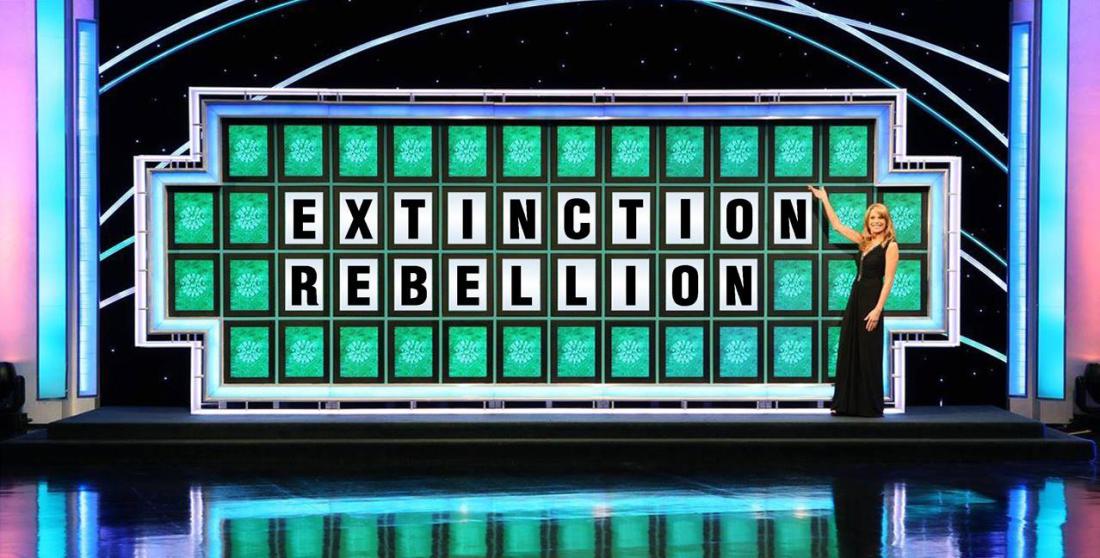 "Now is not the time for speaking politely, or focusing on what we can or cannot say: now is the time to speak clearly… You say nothing in life is black or white, but that is a lie – a very dangerous lie. Either we prevent 1.5° of warming, or we don't."
Greta Thunberg, speaking at Davos
Thank you for reading this, our 13th newsletter. We're super excited about the coming months and what they might hold. We're also excited to welcome a whole host of new members into the newsletter team. We're looking forward to our new writers bringing with them some fresh changes in style, tone and format – keep an eye out for changes and improvements in the coming issues!
That said, the team is still far from full-capacity – if you'd like to get involved in helping put together future editions, join the newsletter hivemind by emailing xr-newsletter@protonmail.com.
Get in touch with the same address if you have any questions or queries.
This newsletter was written collaboratively by a hivemind of 12 rebels.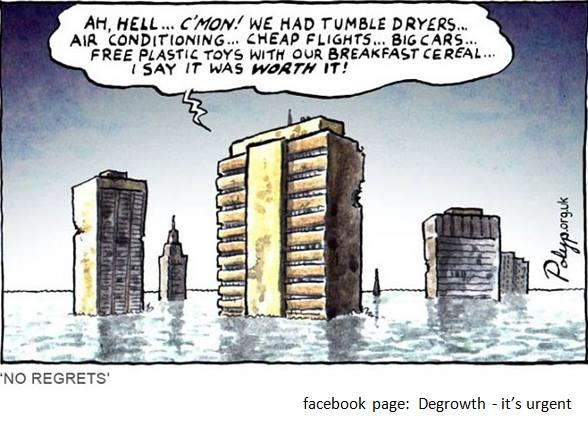 As we enter this crucial and potentially final phase in human history, our Rebellion will need money to make sure our message is heard. Anything you can give is appreciated. Please visit our Fundrazr page.
Alternatively, standing orders or money transfers should be made to our Triodos Bank Account (Sort code: 16-58-10 Account No: 20737912) in the name of Compassionate Revolution Ltd (the holding company for Rising Up!).
Alternatively, if you're a PayPal user (or more comfortable with PayPal), PayPal payments can be made to info@risingup.org.uk.
For queries contact Dave Nicks (dave.nicks@btinternet.com).