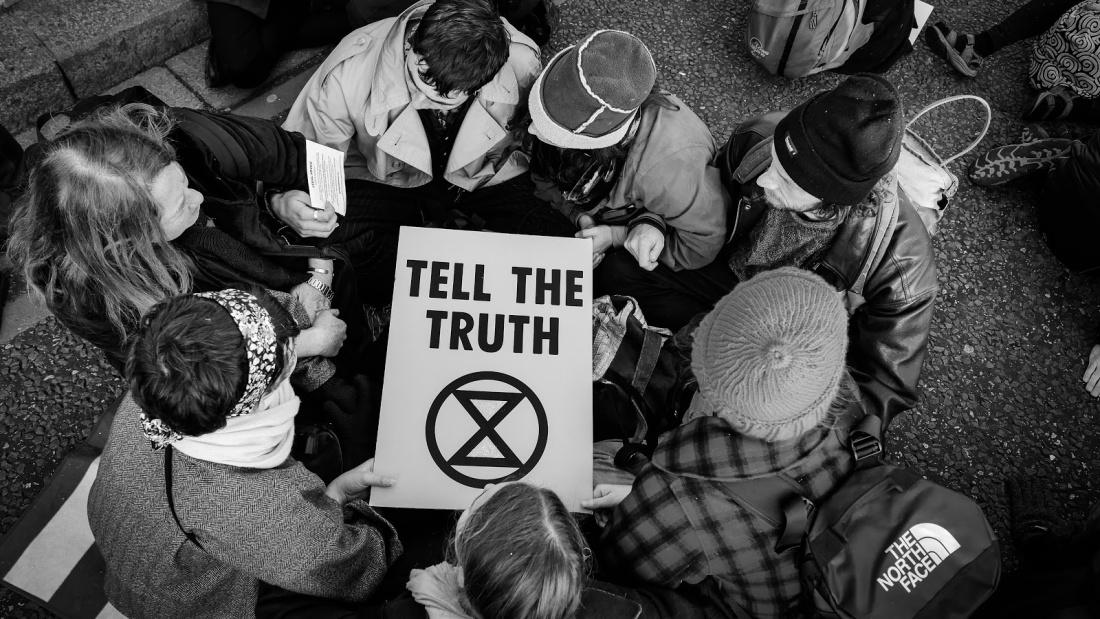 Welcome to the 16th Extinction Rebellion Newsletter!
This week saw an incredible turnout from the Youth Strike movement, with strikes in over 130 countries! In the UK, strikers received support from the newly-established XR Youth, who threw an afterparty on Westminster Bridge.
Speaking of celebration, this weekend also saw an amazing Spring Uprising event in Bristol.
And at the same time, Earth Marchers in Wales made their first steps on their journey to join in London's International Rebellion.
Wherever you're coming from, if you're joining the International Rebellion you might want to read the new briefing/guide which contains all the latest details. And in case you missed it last week, check out our legal briefing (pdf) – a must-read for anyone considering risking arrest.
Before April 15, there's plenty else to keep us busy. On the 30th of March we'll be blockading Dover – there's also a brand new briefing (pdf) for this action. Shortly after that, we'll be painting the streets; due to a technical hitch we've had to make a new Facebook event where the old one had many hundreds of attendees – so please share this one far and wide to let people know it's still happening!
And the rebellion will be global: this weekend will see large-scale declarations of rebellion in both France and Australia. We at XR UK wish our fellow rebels abroad the best of luck, and we can't wait to come together with one voice on April the 15th!
Wherever you are in the world, if you're looking to take action right now, then look no further: as part of a campaign to get the world of culture telling the truth about our emergency, XR is encouraging anyone to take part in the Letters to the Earth campaign (more details in Announcements).
On top of this, our BBC Campaign group is looking for as many people as possible to submit questions through this easily-accessible form – let's show the BBC how much appetite there is for truthful climate coverage!
We'll be bringing easily-accessible actions like the above to your attention every week – but we hope these are seen as part of a deeper, population-wide effort to save our children's future. If you'd like to get more directly involved with XR, please check out our volunteers page. To help out in your area, get in touch with your nearest XR group. If you can't spare time, but can donate money instead, please see our fundraiser page.
Check out what's on near you with our full list of upcoming events, available to view on our website rebellion.earth/events. Or create your own event by filling in our talks and trainings form. If you're new, or haven't already seen it, remember to check out our Campaign Overview Document.
Contents
Recent Activity

Upcoming Activity

International Highlights

Announcements

Extreme Weather

Latest News and Data

Recommended Content

Good News Stories
Recent Activity

Second Worldwide Youth Strikes in over 2200 cities & towns
15 MAR
They did it again, and this time even bigger and better! Last Friday, over 1.6 million young people in 130 countries skipped school and created the biggest global climate march ever. In the UK, over 26,000 students walked out of their classrooms to demand action on climate change for their future. In London thousands of students marched from Parliament to Buckingham palace and occupied Westminster bridge. They are putting politicians globally on the spot with their numbers and creative messages. Feeling inspired? Join the XR Youth Network and check out our Facebook page.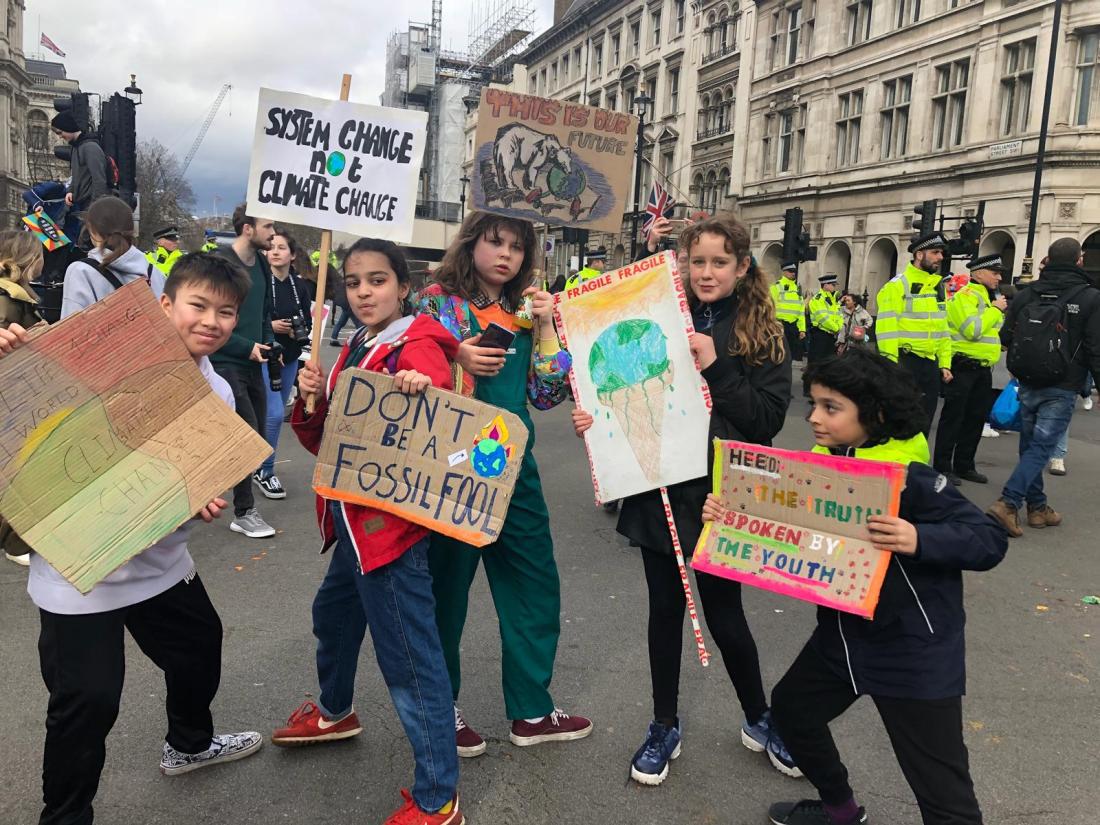 Spring Uprising
16 – 17 MAR
Extinction Rebellion's Spring Uprising was a storming success with talks and workshops throughout the weekend bookended by a jam packed musical line up including Dizraeli, Nick Mulvey, Sam Lee, and many more.
Thousands of Rebels came together from around the world to learn and grow together. Among the numerous events offered in five spaces, there was opportunity to nourish the mind, body and soul.
There was extended discussion of how to cement the movement in international solidarity, a diversity of action tactics practiced through clowning and flocking workshops, as well as Non-Violent Direct Action trainings done with hundreds of participants. Physical trainings were balanced with workshops on decolonising the movement, as well as developing emotional resilience in a world of uncertainty.
Reboot the Roots, Reclaim the Power, and Occupy all contributed to the array of workshops on offer, with local environmental groups and campaigns showcasing their work in the central "Solution Zone" throughout the weekend.
As each days' bursting schedule came to an end, an array of musical talent was on offer in to the night to put the regenerative culture of the movement in to practice.
"It was only at the Spring Gathering that I realised how deep this movement goes in to people's lives. The talks, skill shares and assemblies were amazingly effective but it was the conversations with people from all ages and backgrounds, that really blew me away."

Jamie
"Fabulously inspiring to see so many people connecting, thinking together, having fun and ready to act."

Gail
It was a weekend not to be missed and we can't wait for the next one!
Earth March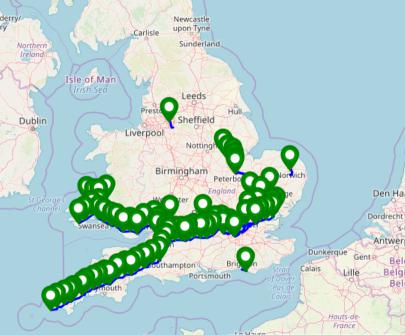 As the Cornwall marchers begin their crossing of Dartmoor, and the March gets going in Wales, rebels across the rest of the country are getting ready to join in the journey. The latest entry in the journal, written by Mary Roddick, reads:
Excellent and inspiring day with the XR Cornwall Earth March for Life. I joined them for the single leg to Lostwithiel at St Austell railway station where I was warmly greeted and quickly integrated into the smallish but sturdy group. The weather hadn't been particularly kind to them and ill health taken a toll, maybe due to the huge amount of work that has gone into the organisation. Today, though windy enough to keep our banners dramatically fluttering, was mostly dry, occasionally brightish and cool enough to feel comfortable on the hills.

Highlights were an unexpected tea break on a farm, spectacular views back down to St Blazey and the sea and a couple of unsolicited donations from a passing motorist and some pedestrians in Lostwithiel. The time and miles passed quickly with easy camaraderie and interesting conversation.

I learnt about and tasted 3 varieties of foraged wild greens as well as getting advice on how to collect and include seaweed in my diet.

I thoroughly recommend joining them for as long as you can manage even if it's just for a day.
If you'd like to join any part of a march, read our guide and check out the Facebook group to find a route near you. If you're more into cycling, take a look at the Rebel Riders; and if you're an intrepid runner, you might be interested in Sue Cooper's heroic plan to run across England.
Local contributions
Decentralisation is a key element of XR's ethos. So while high-profile actions will often take place in the big cities, we're eager to celebrate all the amazing actions across the country and the world every week. If you're involved in your local XR scene, in whatever part of the world, and if you've got a story to share, please email xr-newsletter@protonmail.com with 'Story Contribution' in the subject line. For major bonus points, it'd also be really helpful if you could write the story as you'd like it to appear in the newsletter!
Upcoming Activity
XR Critical Mass – Bring your bikes
21 MAR | 13:15 – 14:15 | Parker's Piece, Cambridge
29 MAR | 18:30 – 21:00 | Waterloo Bridge, London
29 MAR | 18:45 – 20:15 | The Forum, Norwich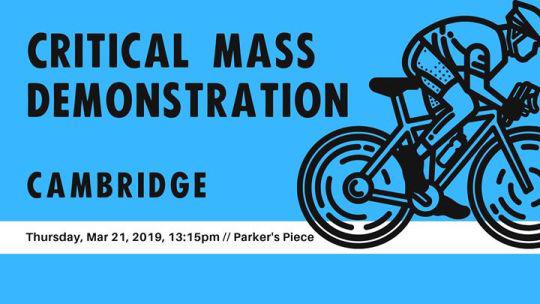 Following the lead of the Critical Mass movement – whose 25th Birthday is this month – XR groups are taking over the streets by bicycle. XR Cambridge is gearing up for their 3rd bike ride this week, while XR London and Norwich are joining the monthly cycles in their respective cities for the first time.
Call for more local groups – XR Groups across the country are encouraged to replicate this action in their Towns and Cities. Come together, take over the road, and promote Extinction Rebellion in the build up to No Food on a Dead Planet: Dover Blockade and International Rebellion. Local Groups interested in doing this can email xr-action@protonmail.com with any questions.
We'll cycle together as a group, asserting our right to be on the road. This is not illegal. We have the same right to the road as cars do. We're not blocking traffic. We ARE traffic. We'll go as slow or fast as we want, and won't leave anyone behind.
XR Cambridge will meet at 13:15 at the Reality Checkpoint in the middle of Parker's Piece for a briefing, aiming to set off at 13:30.
XR London will gather at 18:30 on Waterloo Bridge, leaving around 19:00.
XR Norwich will meet at 18:45 in front of The Forum, leaving around 19:00.
This will be an opportunity to practice an action, build existing relationships, and make new ones.
Dover blockade
30 MAR | 10:00-15:00 | Dover, Kent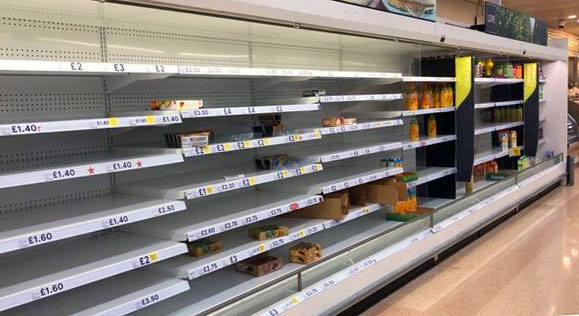 While politicians bury their heads in the sand and get on with business as usual, Extinction Rebellion is planning one of their most turbulent actions to date to highlight the extreme vulnerability of the British people to our food insecurity. On 30th March XR calls on rebels to join them in peacefully and non-violently blocking the roads out of Dover. As much as 50% of the UK's food is imported through ports like Dover – this food is crucial to feed our nation. While newspapers resound with predictions of empty supermarket shelves as a result of Brexit, this is nothing compared to the misery of climate crisis induced famine and hunger.
We understand this action will be controversial, but don't worry, this is a symbolic one-day action which will cause major disruption, but not stop medicines or food supplies getting through.
If you are interested in joining please sign up for the action.
We need as many people as possible to join us for this so please check out the Facebook page for more details and get involved! See here for a detailed briefing (pdf).
XR Paint the Streets Worldwide
30 MAR | Worldwide
Rebellion Week is less than a month away so we're calling on rebels worldwide to join us for a week of non-violent direct action starting 30th March to cover the streets in XR messaging. We need help to spread our message with stickers, posters, banners, music, art and much more to alert people to the climate and ecological emergency we're sleepwalking into.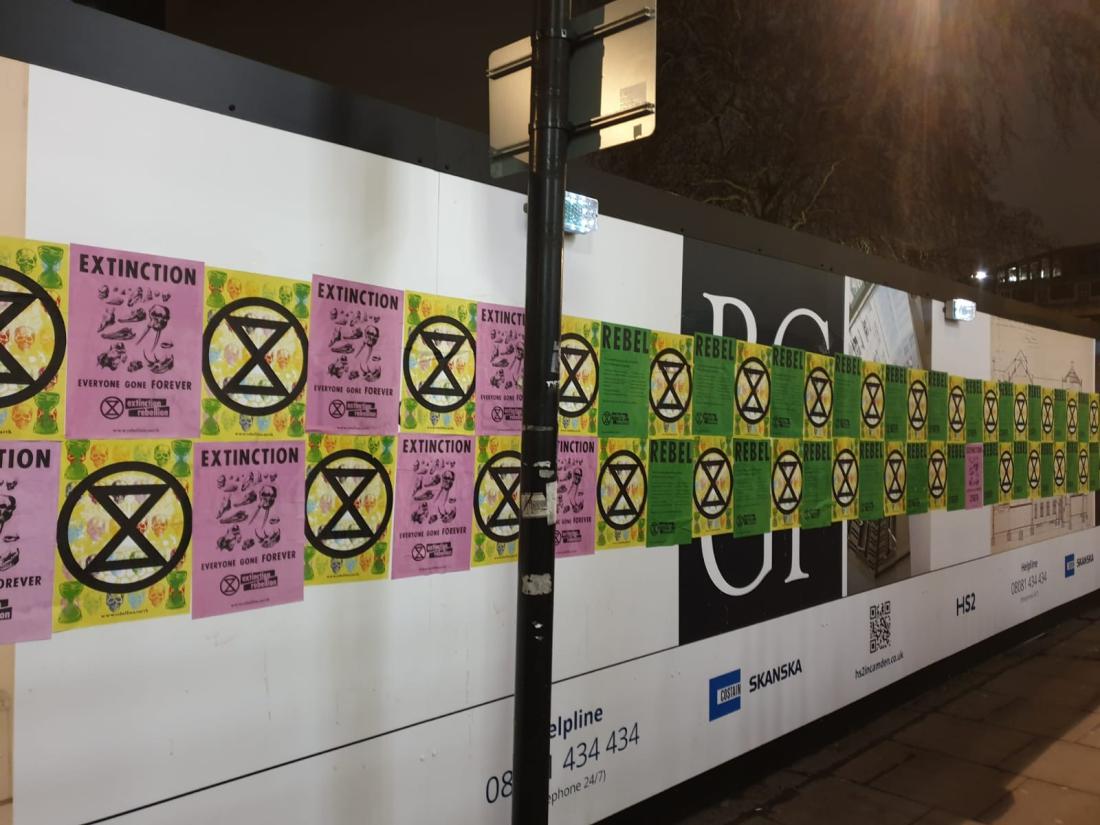 The original event was deleted by accident, but we've put this one back up.
Every affinity group can take part in their location – stay tuned on the event for updates! Deadline for designs to submit on the GDrive (link in event description) is SUNDAY 24th MARCH at 12:00 noon GMT.
In this action, anyone can join at any level of commitment, and everyone can play their part –
From handing out flyers on street corners,
To slapping a few stickers on your way into work every day,
To standing up on the bus and speaking the truth to fellow passengers,
To replacing the adverts on train carriages and bus stops,
To performing in high streets and squares….and so on!
Please see our Facebook event to find out more.
International Rebellion
15 – 28 APR | Worldwide
That's right, International Rebellion Week is almost upon us. We hope you've booked time off work to join us for this open-ended period of non-violent direct action where we'll be shutting down our cities and calling for a full-scale Rebellion to demand decisive action from governments on climate change and ecological collapse.
This is the moment we demand we are heard. Further details to come in due time – watch our Facebook page for further updates. You do not need to be arrested to take part. Please tell everyone you know about this event, invite all your friends, and spread the word. There is no greater cause on Earth than Earth itself, and the struggle for a true democracy to protect life on this planet, our only home.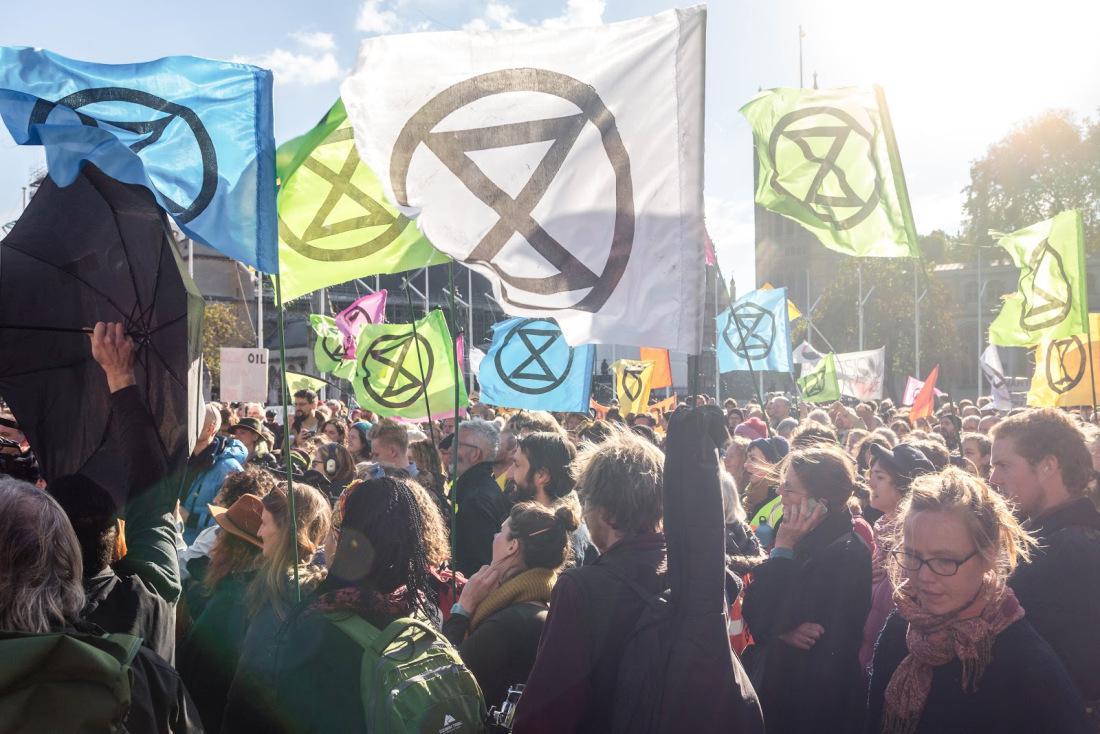 International Highlights
Canada
1 MAR
Rebels interrupted question time at the Nova Scotia legislature on March 1, singing and chanting for three minutes before being escorted out waving Extinction Rebellion banners. This action follows on from XR Canada's national week of rebellion in February, to put continued pressure on government to declare a climate emergency. Nova Scotia officials have not acknowledged the climate crisis, though Halifax, the capital of the province, has recently declared a climate emergency.
One determined rebel made the same demand when she entered the council chambers during the Charlottetown city council's monthly public meeting. Other rebels sat in the public gallery but she refused to leave the chambers unless she was allowed to display a banner reading "Declare a climate emergency". She was arrested and charged with causing a disturbance.
New Zealand
12 MAR
Extinction Rebellion Auckland funeral marched, complete with coffin and bagpipe player, into Auckland city council to deliver a message to the Environment and Communities group. They were pleased with the response, as they were invited to an upcoming Climate Summit. Afterwards, rebels gave heartfelt speeches outside the building, asking that we all "hold grief in one hand and hope in the other" and demand a better world.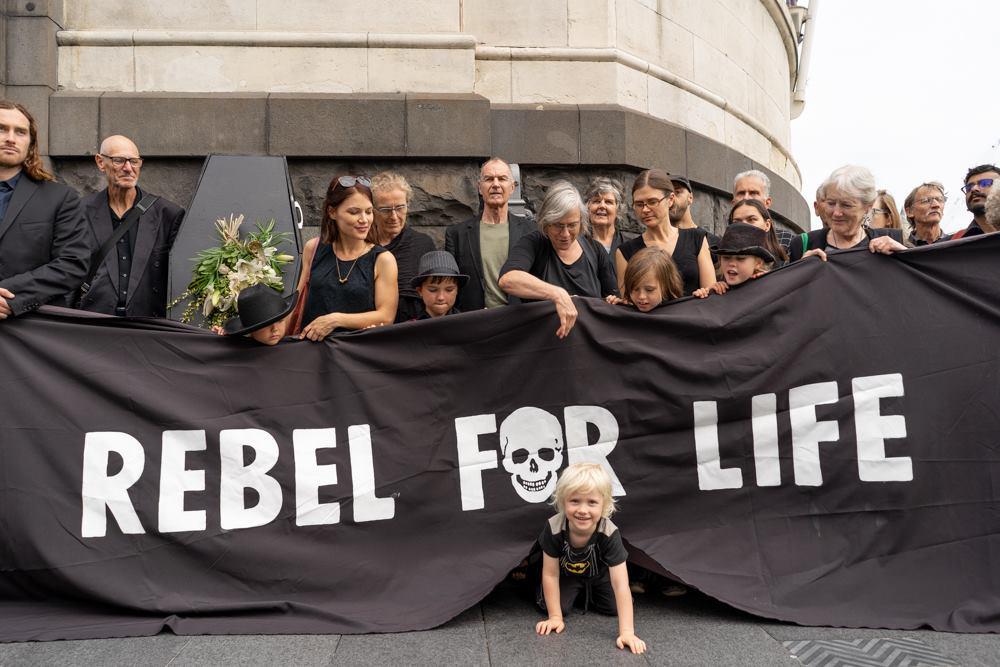 France
16 MAR + 24 MAR
Extinction Rebellion France took part in the Marche du Siècle (March of the Century) in Paris, joining the crowd of 100,000 people demanding climate and social justice. Environmental, political and social groups, along with thousands of individuals, united to send a strong message: climate breakdown will affect everybody. Peace, joy and music propelled the marchers; the many musical groups included a full brass band. Similar marches took place in cities around France.
And this Sunday, thousands of French rebels will be gathering in Paris to declare open rebellion.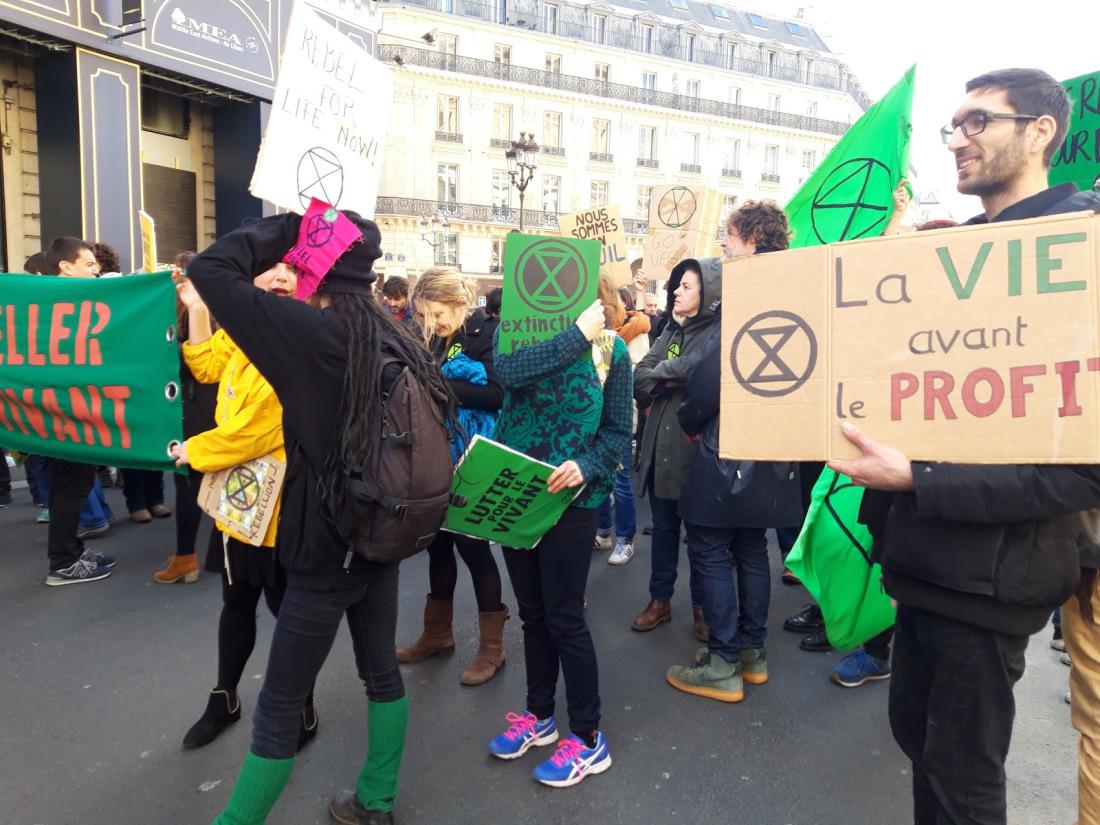 Finland
16 MAR
To protest logging policies in their country, Extinction Rebellion Finland interrupted the Forest Economy Seminar at the University of Helsinki. Seven rebels performed a hauntingly beautiful dance before being ushered out of the room, while others displayed an XR sign and handed out leaflets.
Declaration Day in Australia
22 MAR | Brisbane, Melbourne, Sydney, Adelaide
On Friday Australian rebels in four major cities will simultaneously gather at government buildings, to demand that their government declare a climate emergency. More details, including meeting times and specific locations, are on their facebook page.
Announcements
Letters to the Earth: Deadline for Submissions
Deadline: 29 MAR | Midnight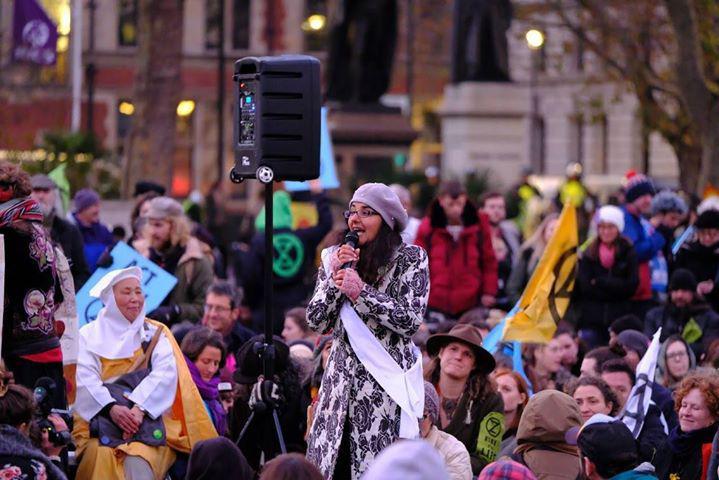 Submit your written letters of response to the climate and ecological emergency for presentation at theatres and arts venues across the country on 12th April, a day of joint action from the cultural sector. This can be a letter to or from the earth, past or future generations, those in power, other species. The idea is open to interpretation: it can come from a personal place, be dramatic in form, be a call to action. The invitation is open to all – to think beyond the human narrative and to bear witness to the scale and horror of this crisis.
The pieces will be made rights free and available for anyone to download and present anywhere in the world from 15th – 28th April as part of the Rebellion.
Deadline: Friday 29th March | Midnight
Email your submissions to letterstotheearth@gmail.com – subject line 'Letter'
Find out more:
Zero Hour – Getting to the Roots
We are happy to announce our support of Zero Hour's new campaign #GettingtoTheRoots. Follow this link to join in their worldwide education campaign, become an ambassador and bring climate justice education to your community.
Affinity Group stories for XR Blog
Are you part of an affinity group that has participated in direct action?
We ask for your stories of courage, struggle, compassion and collaboration, of whatever you have experienced together. This is an offshoot of the #HumansofXR project, to show the world that this movement is their moment too. Creative writing and mixed media all considered. Please email xrblog@protonmail.com with your A.G. name in the subject line.
XR Blog also seeks submissions on an ongoing basis, from rebels from all walks of life. Minimal writing experience is required. If you're stuck for content we can provide a variety of writing briefs. Please contact us on xrblog@protonmail.com
Extreme Weather
Torrential rain in Papua triggers landslides
At least 50 people have been killed by flash floods in Indonesia's eastern province of Papua. Flooding is not uncommon in the area — in January 70 people were killed by flooding and landslides in Sulawesi island.
'Major humanitarian crisis' after cyclone slams southern Africa
'Cyclone winds and floods that swept across southeastern Africa have affected more than 2.6 million people and could rank as one of the worst weather-related disasters recorded in the southern hemisphere.'
Drought turns part of Iran into a new dust bowl
'[T]he dust storm season has expanded, sometimes spanning half the year—and so, as a consequence, has the volume of respiratory problems'. In the provinces of Sistan and Baluchestan agriculture is 'now all but impossible and everyday life a struggle […] the region risks becoming uninhabitable'.
Latest News and Data
Overfishing and climate change blamed for 80% decline in sooty terns on Ascension Island
Climate change creates a new migration crisis for Bangladesh –'Over the last decade, nearly 700,000 Bangladeshis were displaced on average each year by natural disasters' – in-depth article for National Geographic
UK failing on 14 out of 19 global targets for the UN's Convention on Biological Diversity
Climate change denier invited to comment on school strikes for BBC Nine
Dahr Jamail: 'We're Living in the Warmest Decade Since Record-Keeping Began'
Some of the above stories and lots more in his latest 'Climate Disruption Dispatch'
Recommended Content
A journalist spent time with Extinction Rebellion New Zealand, and wrote an in-depth piece describing recent XR activity, the bigger picture in NZ and globally, and, most poignantly, his own thoughts and emotions when facing the immensity of the crisis:
"I grieve for the loss of the world I so deeply wanted to share with my partner, growing old together into a sweet, carefree senility. We are both 29. The sort of world that would allow that course of life to unfold will not exist by the time we're ready for it. I grieve for the birds and animals that will go extinct. I grieve for the trees that will wither and die. And most of all I grieve for the people who will never have the chance to live the sort of decent life that everyone deserves."
This article suggests that solar power in schools could provide economic, educational, and social benefits in Jamaica, as well as the obvious environmental ones. It describes the systemic problems which need to be addressed in Jamaica:
'Countries like Jamaica will always struggle when parliamentarians and the traditional press remain eager bedfellows– there are more chickens with teeth than investigative journalists. The poor get their news with their ears and the viability of renewables and solar school stories are not reported over the airwaves. The people are kept ignorant.'
The author tells me that people there frequently protest about issues that affect them. He hopes that XR can harness that spirit to get a foothold in Jamaica, by highlighting the links to socio-economic issues.
How to revive our fantastic mini-beasts– an interesting mixture of information about the catastrophic decline in insect populations around the world and useful tips about how all of us can take small steps to help our insect friends. The article refers to recent scientific studies, carried out in Germany and Britain and explains how the collapse of the insect populations impacts on bird life. But my favourite part comes at the end, where there is a list of easy things we can all do in our garden to help.
'On Contact: Civil Disobedience to Stop Ecocide' – Chris Hedges interviews XR co-founder Roger Hallam
Rebecca Solnit makes an impassioned argument in The Guardian to reject the broken politics that enables both climate change deniers and violent extremists like the attack in New Zealand and come together for our collective future.
Regenerative Culture / Good News Stories
Antonio Guterres organises climate action summit
The international student strikes last Friday caused many people to take note, and question how they could do more. Luckily, one of those people was António Guterres, secretary general of the United Nations. In this opinion piece, he acknowledges that the response to the climate crisis so far has been insufficient. In response, he has organised a climate action summit in New York in September. He is asking world leaders from governments and the private sector to arrive with ambitious, concrete plans in key areas: emissions reductions, renewable energy, withstanding climate impacts, investing in the green economy, sustainable infrastructure, sustainable agriculture and management of forestry and oceans.
'While climate action is essential to combat an existential threat, it also comes with costs. So action plans must not create winners and losers or add to economic inequality: they must be fair and create new opportunities for those negatively impacted, in the context of a just transition.'
Emissions reductions policies can work
A recent study has suggested that policies to reduce carbon emissions in 18 countries with developed economies may be starting to work. The countries, including the UK, France, Germany and the US, saw emissions decline significantly between 2005 and 2015. The changes were mostly due to replacing fossil fuels with renewables and an overall decrease in energy use.
'"New scientific research on climate change tends to ring the alarm bells ever more loudly," said co-author Charlie Wilson . . . "Our findings add a thin sliver of hope."'
Geothermal power could become more accessible
Geothermal power is very low emission, like wind and solar, but more flexible as it can provide energy whenever needed. Until now it's application has been limited to regions with very hot water caused by volcanic activity. However, a Swedish company has developed technology to harness power from low temperature heat, and a recent boost in funding means they are about to scale up their work.
Thank you
Thank you for reading this, our 16th newsletter. There's so much exciting stuff going on that we barely have time to write this sign-off. Keep up the good work! If you have any questions or queries, please get in touch at xr-newsletter@protonmail.com.
This newsletter was written collaboratively by a hivemind of 12 rebels.
As we enter this crucial phase in human history, our Rebellion will need money to make sure our message is heard. Anything you can give is appreciated. Please visit our Fundrazr page.
Alternatively, standing orders or money transfers should be made to our Triodos Bank Account (Sort code: 16-58-10 Account No: 20737912) in the name of Compassionate Revolution Ltd (the holding company for Rising Up!).
Alternatively, if you're a PayPal user (or more comfortable with PayPal), PayPal payments can be made to info@risingup.org.uk.
For queries contact Dave Nicks (dave.nicks@btinternet.com).