Inside XR #2
Hi all,
After a regenerative festive period, XR is getting back into gear!
For now the main emphasis throughout our movement, at all levels, is on strategy – from individual working groups to the immense meta-strategy process. This latter will culminate tomorrow, in the National Meetup, where people from all parts of the UK and XR will discuss the proposed strategy for April.
Concurrent with strategy, the progress of XR's structural development has been beautifully illustrated, accompanied by an equally colorful spreadsheet listing email addresses and mandates, all of which should help both members of the public and XR alike to better understand how we organise.
In more material terms, XR members have been involved in a number of solidarity actions, including Earthstrike and the disruption of the Global Coal Resources general meeting, while our first major civil disobedience event for the year is due to take place on the roads of Hackney on February 9th.
Like many others, though, the actions team is waiting for the conclusion of tomorrow's meta-strategy process before planning too far ahead. With this in place, it won't be long at all before XR is back in the public eye – and hopefully it won't be too long after that before the UK leads a radical shift in humanity's relationship with the environment!
Strategy
After dozens of conference calls and hundreds of email exchanges, our strategy and stewardship groups were finally able to spend a weekend together in Stroud to discuss XR's strategy for the coming months. Thanks again to Springhill Co-housing for allowing us to meet in their beautiful space! Not only were we able to discuss different aspects of the strategy in more detail but we also worked on redesigning our organisational structures and decision-making processes and connected with each other, living the regenerative culture that we now need more than ever.
The session in Stroud was followed by a smaller meeting on Wednesday which brought together all that had been learned hitherto, and where strategy representatives began to finalise the process into a document now available here, which will be presented and explained by the same representatives tomorrow. Following this presentation, all in attendance will be encouraged to give feedback; the strategy team will then meet the following Wednesday to discuss this feedback and make any necessary changes to the strategy outline before formally concluding the process.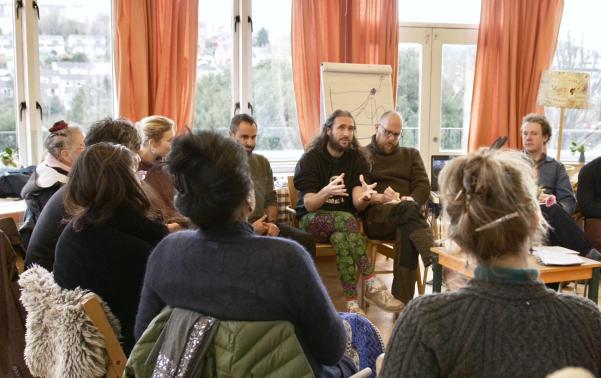 Last weekend's strategy meeting in Stroud. Photo credit: Maia Kenworthy
Internal news
Actions, Art and Logistics
The actions, arts, and logistics working group is currently re-forming. They are working on creating documents which will help us decentralise and integrate new members to build the teams that will work on actions over the coming months building toward April 15th and beyond. In terms of a realistic and regenerative approach we have decided all major XR actions will have at least a month lead-in. As well as eagerly awaiting the conclusion of the meta-strategy process which will guide the work of this working group going forward, we are gathering ideas for actions from a range of experienced and creative artists and activists, and being inspired by the local groups around the UK and the world who are taking creative XR actions almost every week. These will all feed into a creative visioning meeting amongst artists and activists within this working group to design the next phase of actions which will again inspire this movement through our collective power. Through our actions we will try to outreach to new groups, create mass economic disruption, and vision the future we want to see in the world. Some will be aimed at one of these, and some at all three.
M&M
Social media
Our Social Media team have been working flat out this week to scramble getting the word out for sudden events coming up, from solidarity protests for the Wet'suwet'en anti-frackers in Canada, to more protests against Jair Bolsonaro outside the Brazilian Embassy, to court solidarity support for Conscientious Protectors (arrested for blocking a London meeting to plan a new coal mine in Bangladesh). As new people hear about us our followings are continuing to grow by around 500-1000 every week or two. However, an even more interesting development is a whopping ONE HUNDRED new people signing up as "Going" to International Rebellion Week EVERY DAY, bringing the total to over 1,500 already. If this continues at the same rate we'll be at over 10,000 by April – but with the actions coming up and more effort going into spreading the word, we know this will start to grow a lot faster… We're excited to see how many we can get! We'll see you on the streets in April, rebels. Tell all your friends!
Stat-lovers, see this week's analytics report here.
Press
The press team, like many others, is looking to expand in response to increasing demands. Concurrent to this we're continuing to handle inquiries and requests from news organisations of all shapes and sizes; we're also working on proactive strategies for creating coverage in the coming months, such as getting XR-written articles into major newspapers, working with strategy teams to ensure rapid press reactivity, and building the informational infrastructure to be ready for April.
Spokes and Notables circle
We are gathering all the amazing work that has already been done and trying to bring some coordination to future work! We are responsible for preparing people within our movement to speak to media and at events on behalf of XR. We also reach out to people who we would love to speak on behalf of us – from social justice activists to climate professors to rock climbers to A-list celebrities. As and when we make contact with 'notables', we are responsible for integrating their involvement (through public support to donating to being arrested!) into XR. It's going to be a BIG YEAR both for notables joining XR and also for us needing MANY XR people ready and trained to talk to press so – if you would like to join this team please email sam.j.knights@gmail.com
Regen
The Regenerative Culture UK National Working Group has now appointed several sub-group leads meaning that integration, conflict resilience and Action Regen are all maturing, thanks to Joanna, April and Jasmine!
Regen is bringing together Local Regen groups from across the world to begin having weekly introductions and trainings starting this week. As well as this, Regen is offering emotional debriefs and sharing spirals to those who were arrested and are facing court due to involvement with XR actions in London (the next debrief being on Monday Jan 21st at 7pm).
Furthermore, Regen is in contact with several groups who will be offering trainings in Privilege Awareness, Restorative Circles & Sustaining Groups – venues being booked and dates announced soon & publicised via social media.
If anyone is interested in feeding into Regenerative Culture, you're most welcome: we are running intro to UK National online calls weekly for the next month or more – please email xr.regenerativeculture@gmail.com if you're interested in attending.
Finally we want to give our huge gratitude to everyone for their continuing love of each other and the earth, standing bravely in the face of uncertainty.
Legal
The legal team is continuing to expand and develop as new volunteers join the group. We have now begun to support defendants through court trails and hearings. We are also working on improving our communication system in order to better support arrestees and defendants. At the same time, we are developing a legal strategy for XR and trainings for legal observers around the country.
We continue to seek contact with anyone who has been arrested at an XR action. If you haven't been in touch with XR legal please send an email at xr-legal@riseup.net
Talks and Trainings
The latest version of the Heading for Extinction talk is out! If you're one of our speakers and need the updated materials, please email xr.talks.trainings@gmail.com. Our NVDA training team went to Germany to learn from the champions about how to spice up our trainings. Speaker trainings on how to give the Heading for Extinction talk are now being organised around the country, with a focus on England and Wales, but online trainings are also being provided for rebels who live a bit further off so again, please get in touch if you would like to attend them. As a result, there are now more trained speakers around than ever before – so if you need one for a talk in your local area, or if you want to organise an NVDA training, please fill out this online form. Finally, a first series of meeting facilitation trainings has been set up in Manchester, Bristol, London and Exeter.
Communities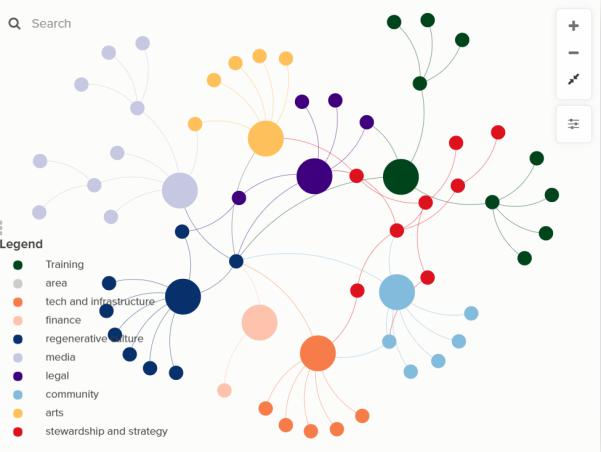 Along with all of the strategy processes, two wonderful feedback processes have been held: the external questionnaire, analysed here, finds a generally very positive perception of XR, with one of a few points for improvement being the information flow which this newsletter is hoping to help with. The internal questionnaire, summarised here, found some similar themes (e.g. "the overwhelming amount of information balanced with the lack of communication"), together with heart-warming positives. The overall feedback testifies to a willingness across XR as a whole to listen to itself and learn from its errors.
Integration
The integration team is currently developing regular online induction sessions, a Rebel Starter Pack, a phone banking system to enable us to reach out to our database to let them know about April 15th, and an automated email system to direct rebels to their local groups. We've also started posting volunteer roles on the website. More info about all of this here.
Newsletters
Readers may have noticed that the internal newsletter is back(!). We're looking to regularise the output by getting a steady system so that all of our wonderful WG contributors can get into the groove of sending in their sections.
Meanwhile the external newsletter is working on expanding its team and formalising its roles. It would also like to announce a new Announcements section – if you'd like something publicised through this platform (such as a call for volunteers, or the revelation of a new initiative), please get in touch with xr-newsletter@protonmail.com. See here for our latest issues.
Tech
A UK tech team has been forming over the last month or so. Work is now starting in earnest to form teams focused on specific technological areas, such as External Communications (use of emails/etc), internal communications (use of Basecamp and other instant messaging tools), website (looking at major updates to the website and possible support to local groups), data and GDPR (making sure our data kept about individuals is clean, and that we always respect our responsibilities regarding data-protection law). We hope that, through this work, we can facilitate the other teams in XR to be more effective at their work.
Actions, events and gatherings strategy
The Action, Events and Gatherings group has recently been formed, following the disbanding of the coordinating group. This restructuring promises to be exciting, though there are challenges during the transition period.
We've been looking at ways to maintain forward momentum whilst continuing to further decentralise, which isn't easy during an intense campaign. We've also been considering action proposals as well as strategy up to March 2019. Proposals so far have included fracking, aviation, coal etc: all issues close to our hearts. We hope to be able to support ongoing campaigns whilst also maintaining the momentum vital to carry us towards our goal. What's also essential now is how we develop our feedback mechanisms, so that regional groups can input on that strategy rather than have it dictated to them top-down. We are all looking forward to seeing how 2019 unfolds as we continue to take action on a variety of fronts.
Finance and Fundraising
The finance and fundraising team have been on-boarding a whole host of new folks and, without listing them all here, it's especially a great relief to have Rob Quinn coming on board to play a CFO type role, (but let's call him the Big Cheese of Cheese), and Lorraine Langhard to bring in more cat-herding coordination energy as well as submitting applications for grant funding. We will be launching a new crowd-funder in the early new year and a number of us are talking to potential donors. Money is relatively low right now.
Political Strategy
Set up following a meeting on 2 December 2018, the Political WG has not yet agreed a mandate but the overarching themes it has been developing are: Building a "Political Taskforce" – to influence the political and NGO field in the UK and internationally, bringing in Global South voices, to enable a message to be communicated of deep collaboration for the XR Demands. To be done in liaison with Movement WG and Actions WG; Scrutiny of whether an effective Citizens' Assembly on Climate Emergency (CACE) can be held before April 15th, commissioned to be carried out by Sortition Foundation (subject to funding); using contacts to get to the negotiating table with government officials on XR Demands; building a "psycho-spiritual" grouping that has the capacity for political manifestation; building a model of "democratic accountability" through sensing/understanding the emergence of XR Local Groups and their needs; creating an expert advisory board which includes Kate Raworth, author of Doughnut Economics and colleagues of Jem Bendell who wrote the "Deep Adaptation" report; sub-groups are formed (CACE sub-group) and forming (Political Taskforce, Psycho-Spiritual, Advisory Board).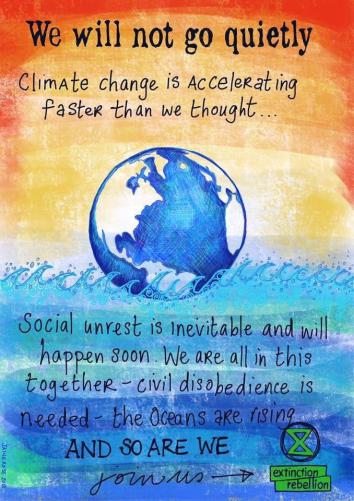 General Climate news
This week, as temperatures broke through existing records in multiple locations across Australia, on the other side of the world 1200+ Belgian students took part in school strikes to demand action on the climate crisis. Meanwhile, Hitachi became the second company in two months to cancel the construction of a nuclear power plant in the U.K., throwing the country's energy strategy into crisis.
Briefing: Reaching Net Zero Emissions by 2025 — is it possible?
It's a core part of our second demand, and we get asked it a lot; this week, Nuala Mai Gathercole Lam examines the possibility of a carbon-neutral 2025.
There's a mainstream discourse about what it would take to go carbon neutral by 2050 or to halve emissions by 2030 — but XR's target of net zero emissions by 2025 is markedly more ambitious. Is it possible?
The Received Wisdom on Political Will
When reports attempt to map out the road to zero emissions political will is factored in as a major obstacle to making the necessary changes quickly (for instance by 2025), as opposed to more gradually (like by 2050). Demanding zero emissions by 2025 means rejecting the received wisdom that only limited reductions are possible. Instead, the ambitious goal of 2025 must drive research and the adoption of technology.
Rapid shifts in the organisation of society are possible — the Second World War saw the repurposing of factories, retraining of large numbers of women to staff the factories, rationing of limited resources and a massive localisation of food production. What looks like a realistic time frame for going carbon neutral changes when we look at the scale of change that has taken place in the past.
Steps to Reach Net Zero Emissions
The Climate Mobilization are a U.S.- based organisation working to generate a rapid and wide- reaching response to climate change. They work with a time frame of reaching zero emissions within the next ten years. This is what they think it would take:
Emergency economic planning measures to reach zero emissions
A fair shares rationing programme as a means to improve energy efficiency in an equitable manner
Investment in 'negative-emissions' technology to remove carbon from the atmosphere
Comprehensive changes to our transport systems including increased public transport options and transition to electric public transport
Replacing industrialised agriculture with localised farming with limits on livestock farming
Restoration of ecosystems to halt mass extinctions and turn ecosystems into carbon sinks
The Technology
Many of the technologies referenced in less ambitious predictions are already in existence in some form. For instance, according to this article in Nature, the cost of producing solar energy has fallen by 80% in the last decade and Morocco, Mexico, Chile and Egypt are now able to produce solar power at a lower cost than natural gas. A reportco-authored by Future Earth and Sitra says that 50% of new capacity for generating electricity is renewable, with wind and solar capacity doubling every 4 years. Storage systems are needed in order to make a 100% renewable electricity grid a reality and the cost of these utility-scale lithium-ion batteries is falling rapidly as demand increases. Finally, hydroponic farming has the potential to reduce emissions through the efficient use of electricity and water resources as well as reducing the carbon intensive transport of food associated with centralised industrial farming.
Whether or not 2025 seems like a realistic goal depends largely on whether or not you factor in substantial political change. Extinction Rebellion exists to shift the Overton window and generate political will for addressing the climate crisis — this is a key part of the puzzle and we have the tools solve it!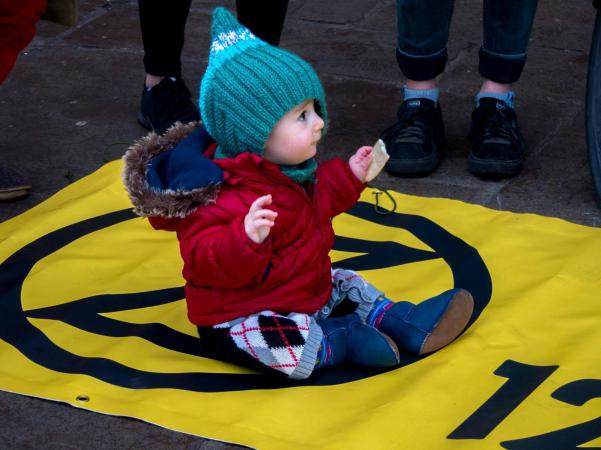 Photo credit: Derek Langley/XR/Cambridge
Thanks for reading this week's internal newsletter!
To see the previous issue, see the archive. If you have any queries or suggestions, please contact douglasrogers95@gmail.com.
Let's get ready for a Green 2019!