Cornwall: On March 12th around seventy people turned out at Land's End at the southernmost tip of the British Isles to march to London in protest against the government's failure to legislate against climate chaos and ecocide.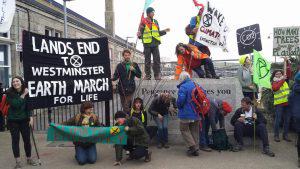 Between Land's End and St Buryan the pilgrims made a detour past a primary school –
where the headteacher turned the march into a "teachable moment" by bringing all the children out to bear witness.
"It was moving for us all, especially since it is their future and those who come after them that we are fighting."
On arrival in Penzance the pilgrims were welcomed with cheers, mugs of tea, good Cornish ale – and a contingent of new recruits.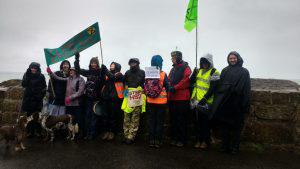 The next day the weather did its worst – but after a pub lunch by a roaring fire, the sky brightened and they continued. Local police joined them briefly: though supportive and friendly, they were clearly on a fishing expedition – from which they left empty-handed. In the afternoon the wind picked up and the marchers were caught in a hailstorm, but they laughed their way through and were treated to a rainbow in its aftermath. Most of the walk was on B roads with no pavements outside of the villages, which meant meeting many drivers who were forced to slow down.
"What's surprising and enormously pleasing is how many were supportive, with waves, tooting horns and thumbs up."
They arrived at Praze an Beeble exhausted but happy – though next time an XR march comes to your town, can you please make sure the pub is open?
Day Three was sunny but windy. The marchers met the local labour candidate who "made all the right noises" – but the highlight of the day was meeting some alpacas in a field.
"The dog didn't know what to do as they all came over to see us at the gate. Perfect selfie opportunity, with all those funny faces – theirs or mine?"
The group stopped at Four Lanes for soup, home-made bread and vegan flapjacks provided by Suzy of Falmouth XR, then walked along old paths and bridleways to Lanner, then up the hill to Cusgarne Organic Farm.
On Day 4 they gathered on Lemon Quay at the head of The Truro River, where there was a good turn-out of supporters: more than a dozen extra Rebels joined the march along with Youth Strikers on their way to County Hall for their monthly protest.
"They are all our futures and there were some warm and mutual exchanges between us."
The first hitch of the day was on the way to Pencalenick, when the group's support vehicle couldn't make it under the low tramway bridge and was forced to make a 27-point turn in the narrow lane. Here the wind gave three of the pilgrims some kite-surfing experience when their Big Black Banner billowed so forcefully it was a fight to reel it in. Then Mike, a stubbornly independent and intrepid wheelchair-user who joined them earlier in the day, found his nearside wheel nut jammed between a concrete post and a stone wall. A local couple came to the rescue with a crowbar and the group was on its way again.
Five days in, with a little regrouping, the contingent was on its way to Grampound in the middle of Cornwall, looking ahead to the A39 and some easier stretches off-road, and onward to St Austell.
"I learnt about and tasted 3 varieties of foraged wild greens as well as getting advice on how to collect and include seaweed in my diet. I thoroughly recommend joining them for as long as you can manage even if it's just for a day."
On Day Six they travelled from St Austell to Lostwithiel: by now bad weather and ill health had taken its toll but the group enjoyed an unexpected tea break on a farm, spectacular views back of St Blazey and the sea, and a couple of unsolicited donations from a passing motorist and some pedestrians in Lostwithiel.
Some days later the group set off from Liskeard after making its presence felt outside the office of of MP Sherryl Morgan, who was in need of a green wake-up call. Rebels in Callington, Calstock, Liskeard Gunnislake and Tavistock gave warmth, hospitality and commitment as they continued on their route to Westminster.
As they were about to cross the Tamar into West Devon, The Western Morning News – a key newspaper for Devon and Cornwall – asked for an interview.
"Things have been going well on the media front and this felt like another step in the right direction. The article looks pretty good in this morning's paper"
On March 20th the group walked along the A390, using the cycle path and pavements, flying its striking black and white banner on the high ground above the Tamar Estuary. Approaching the river at Gunnislake was a demanding hike but they reached the bridge in high spirits – only to encounter new hazards on the other side, in the form of speeding cars.
Once out of the gorge, the walking group continued along a mixture of roads and stony track-ways and were welcomed by local supporters in Bedford Square, Tavistock, where the Quaker Friends laid on food and the Tavistock Times sent two reporters.
Here some Rebels had to leave the group after crossing the 90-mile length of Cornwall on foot.
"Sad to see them go, but good to know that they would be joining us once again as we approach Westminster….People are just so kind and we give gratitude for all that Community and Friendship is giving to this Pilgrimage for The Planet."
On day 10, the wild expanse of Dartmoor lay ahead, and an intrepid group of Rebels set off up the hills out of Tavistock. Once on the moor, the fog closed in, shrouding everything in a ghostly grey mist. After an overnight stop at Powder Mills, the group struck out for Moretonhampstead on the Eastern side of the Moor, where they were again joined by Keith Rossiter, the environmental editor of the Western Morning News, who had already published one article on XR and was ready for an update.
"That is one of the main drivers for Earth March; to be seen and heard locally as we travel the country, contacting media groups ahead, so that we are given Local News coverage…the only thing that travels faster than the wildfires we have witnessed burning across the World is local news, gossip and conversation in the community and this is what we're tapping in to!"
Meanwhile on the Swansea to Cardiff leg of the march, Rebels – including an 87-year-old – were en route in glorious sunshine, supported by the local schoolchildren and hundreds of car-honks and thumbs-ups from passing drivers.
"I won't say anything about the negative comments we received, like "So what?" , "Who cares" and "There's no such thing as Climate Change", and I won't mention at all about BBC Wales who locked us out / locked themselves in at BBC studios Reception!! Were we really that scary??!"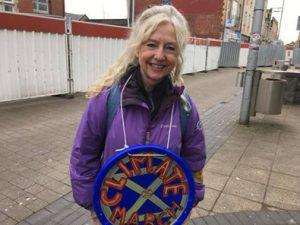 Maddy Adams
"How amazing will it be when all the walks from all over the U.K. join up, and march into London on 15th April for XR International Rebellion Week and occupy the bridges there for a week, to demand the Government acts on the Climate Crisis…. before it's too late.
Be a part of the change! Start walking today!"
The Earth March continues, and is open to anyone wanting to join, for however long or short a journey – and don't forget to send us your stories, from wherever you are marching! You can check out the routes here:
Click on an icon to see info about that leg of the march. Use the control top right to change background map. Use the arrow button to plan a route to save to a GPX file for use in electronic navigation devices, and ideally email them to rebel@rebellionearth.uk so they can be added to the map.